Product Summary
The OPA704PA is a CMOS, Rail-to-Rail, I/O operational amplifier. The OPA704PA is optimized for applications requiring rail-to-rail input and output swing. Single, dual, and quad versions are offered in a variety of packages. The OPA704PA is optimized for gains of 5 or greater and provides 3MHz GBW and 3V/μs slew rate. The OPA704PA is fully specified and guaranteed over the supply range of ±2V to ±6V. Input swing extends 300mV beyond the rail and the output swings to within 40mV of the rail. The applications of the OPA704PA include automotive applications: Audio, Sensor Applications, Security Systems, portable equipment, active filters, transducer amplifier, test equipment, data acquisition.
Parametrics
OPA704PA absolute maximum ratings: (1)Supply Voltage, V+ to V–: 13.2V; (2)Signal Input Terminals, Voltage: (V–) –0.3V to (V+) +0.3V; Current: 10mA; (3)Output Short-Circuit: Continuous; (4)Operating Temperature: -55℃ to +125℃; (5)Storage Temperature: -65℃ to +150℃; (6)Junction Temperature: +150℃; (7)Lead Temperature (soldering, 10s): +300℃.
Features
OPA704PA features: (1)Rail-to-rail input and output; (2)Wide supply range: Single Supply: 4V to 12V; Dual Supplies: ±2 to ±6; (3)Low quiescent current: 160μA; (4)Full-scale cmrr: 90dB; (5)Low offset: 160μV; (6)High speed: 3MHz, 3V/ μs; (7)MicroSize packages: SOT23-5, MSOP-8, TSSOP-14; (8)Low input bias current: 1pA.
Diagrams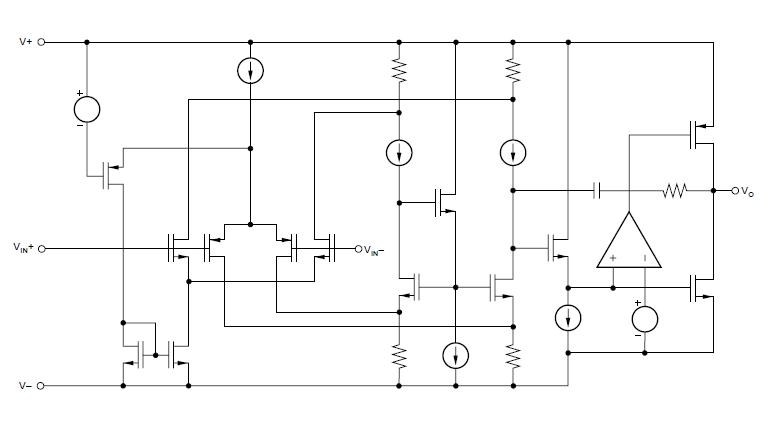 Image
Part No
Mfg
Description
Pricing
(USD)
Quantity

OPA704PA

Texas Instruments

Operational Amplifiers - Op Amps 12V CMOS Rail-to-Rail I/O

Data Sheet



| | |
| --- | --- |
| 0-1: | $1.83 |
| 1-25: | $1.52 |
| 25-100: | $1.34 |
| 100-250: | $1.16 |


OPA704PAG4

Texas Instruments

Operational Amplifiers - Op Amps 12V CMOS Rail- to-Rail I/O Op Amp

Data Sheet



| | |
| --- | --- |
| 0-1: | $1.86 |
| 1-25: | $1.52 |
| 25-100: | $1.38 |
| 100-250: | $1.27 |